2008 Gunny Go-Karts
17th August 2008
Ah, 28. A number in no man's land. No longer in the mid-20s and not as significant as 29. It's still a reason to round up all my mates and go racing though.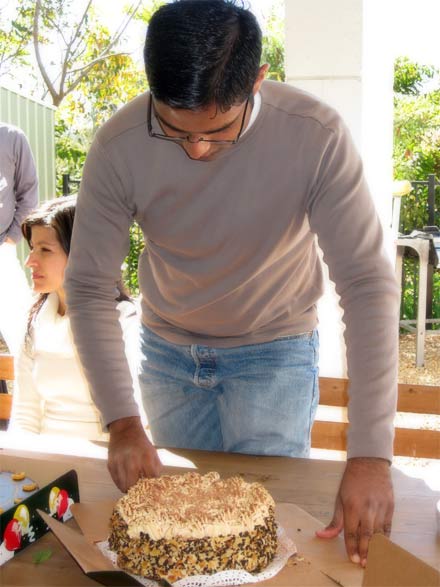 Jackie got me a tiramisu cake at work. There was an orange-choc cake as well.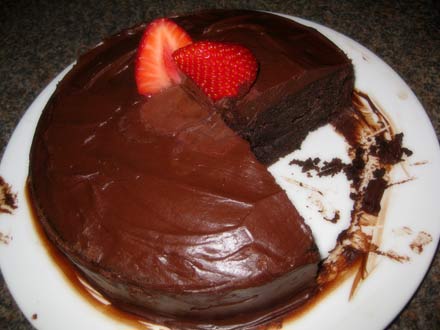 But neither compared to the bestest birthday cake that I have ever had.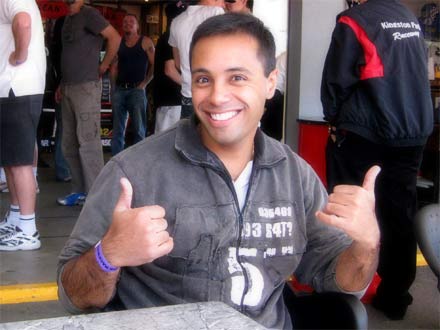 R-R-Raniga. Praz was all set to go when I showed up to the track.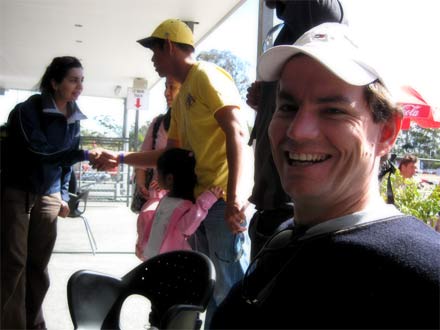 I got caught up watching the women's marathon and wound up leaving a little late for the track. A whole heap of folk had to do the meet and greet before I could make it.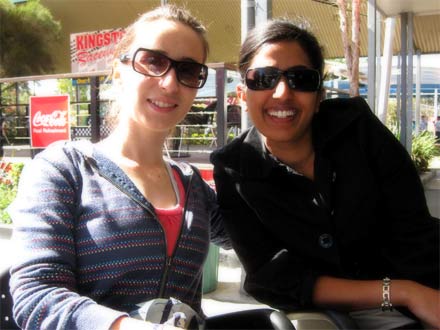 For the first time in the history of Gunny Go-karts we had more than one chicky-babe competitor.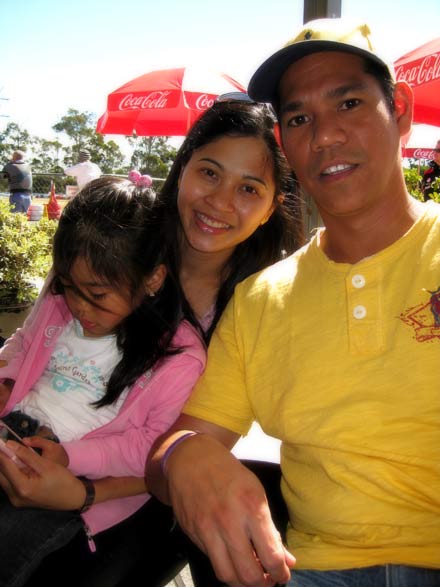 The family set were also catered for- Joj was cheered on by Hazel and Izzy.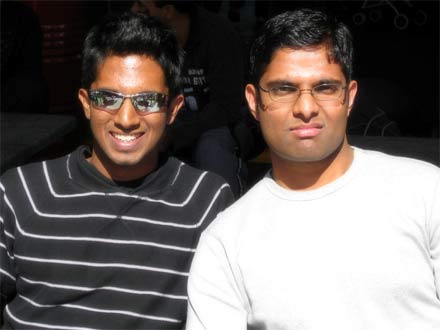 But the day was about the hardcore racers!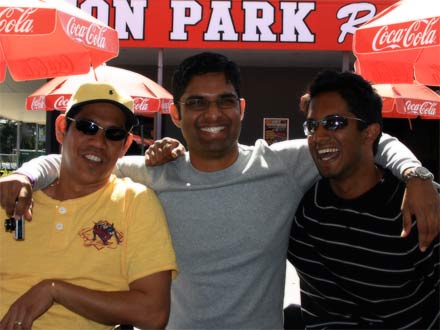 OK, just kidding…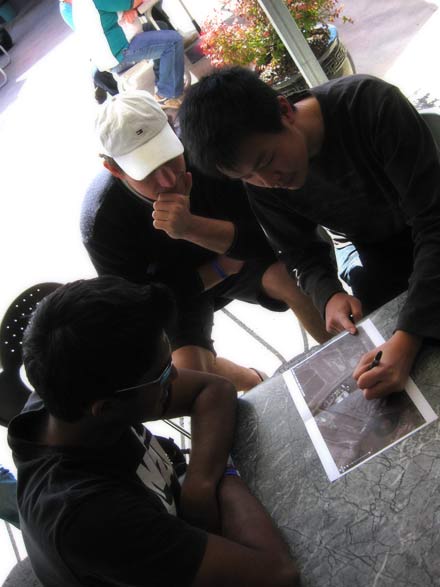 But then again, these guys were serious enough to start talking tactics on their google earth image of the track.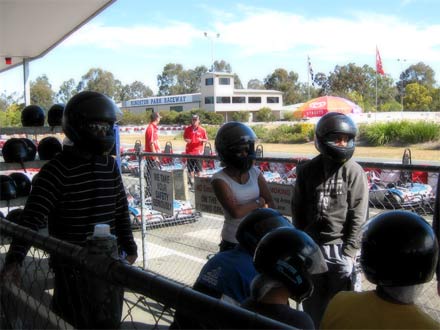 After getting everyone registered and paid up, we were huddled in for the driver briefing.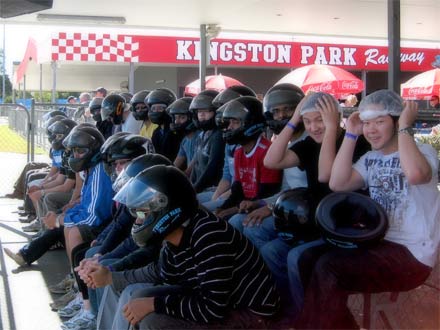 Isn't that a pretty sight?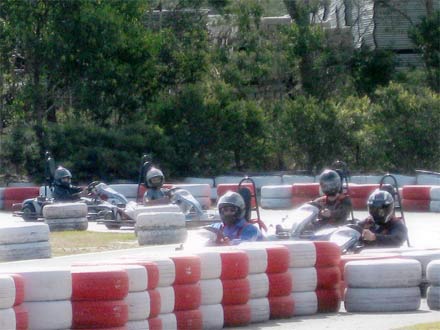 Not quite as pretty though when we were unleashed on the track for the practice session.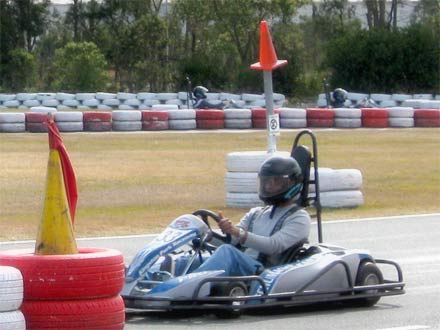 Ummm, I'm not sold on these new karts. The older ones were far more powerful and they had less grip.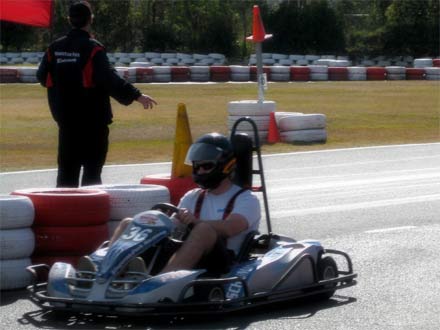 Scotty K lead the charge into the pits.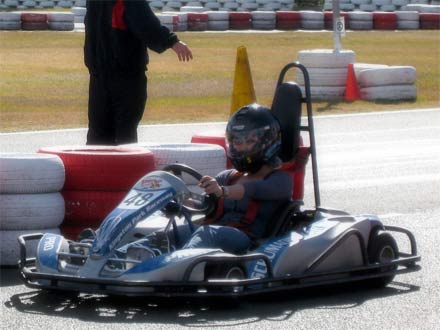 Karen.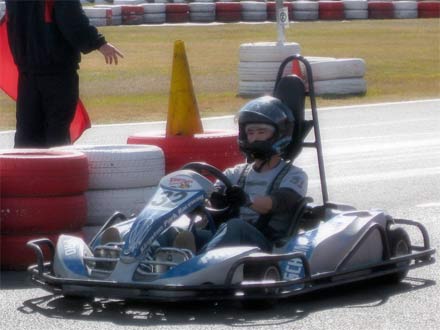 Jason.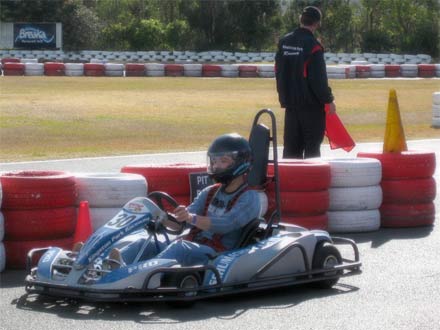 Choman.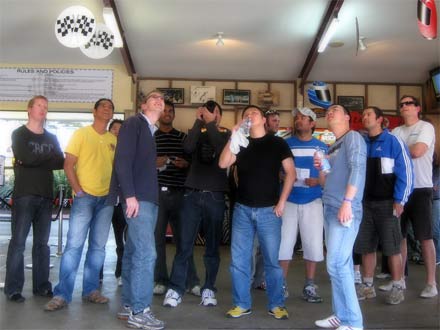 Looking up for divine intervention. Everyone had their eyes glued to the results on the monitor.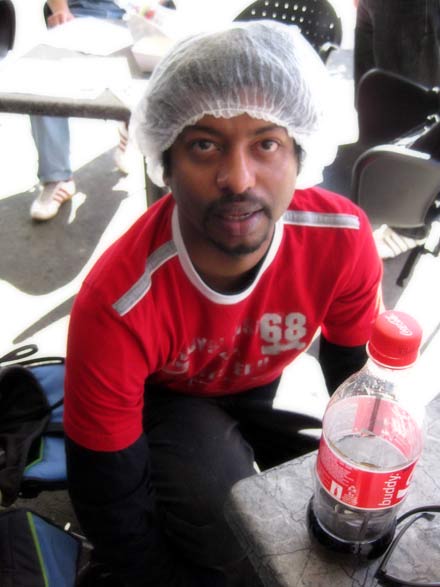 All except for Kev that was…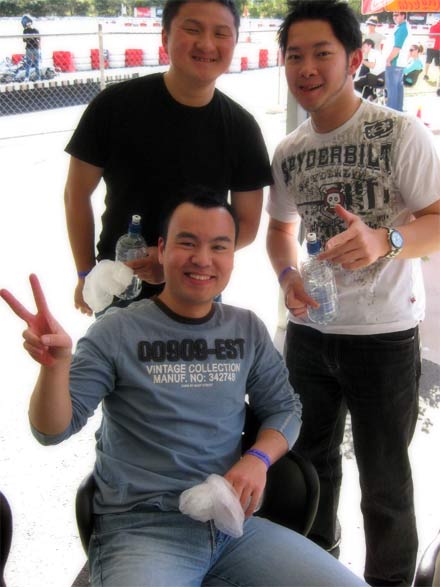 The ricer boys were quick. Choman was a whisker quicker than me. The karts were slow though as the times were all over 61 seconds.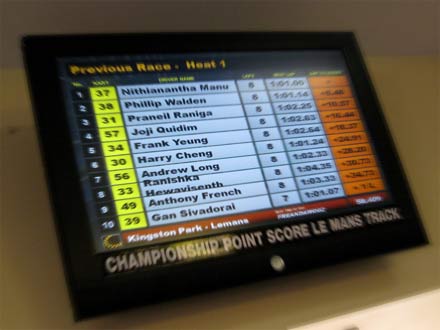 Manu wound up winning the first heat. I got pulled into the pits due to knocking over a few tyres during my multi-lap battle with EDG Phil.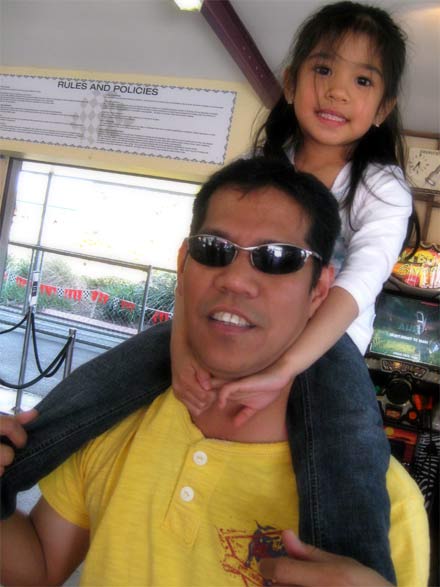 Did you win daddy?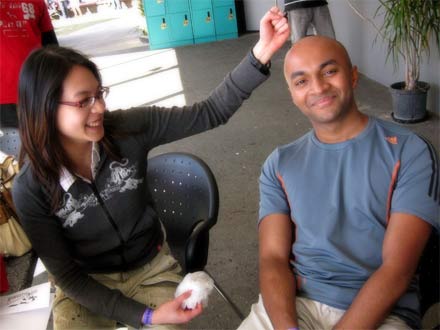 Chui Ming ketuked Daktarr Saar for being fast.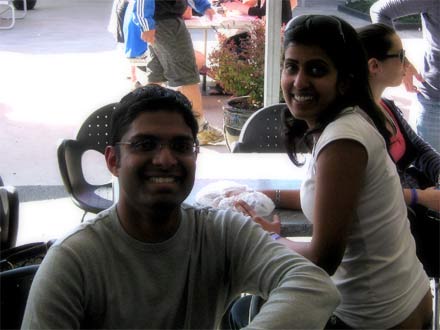 Relaxed.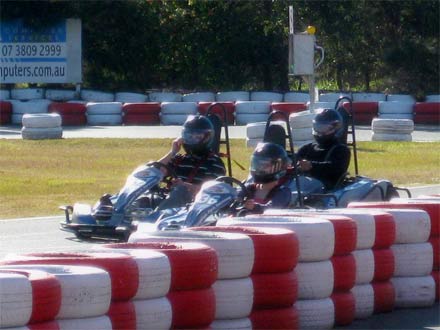 Perci and Dean had Mel boxed in for the second heat.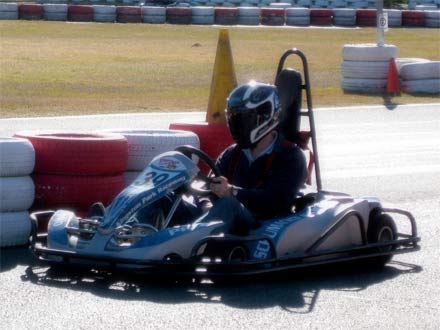 Yet again, EDG Phil had the fastest helmet!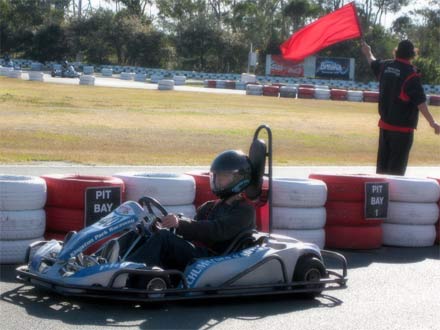 Andy in the pits.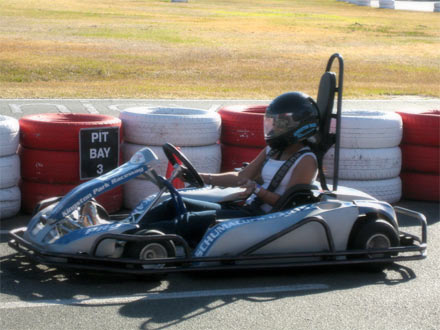 Mirror, mirror on the wall, who's the sexiest karter of them all?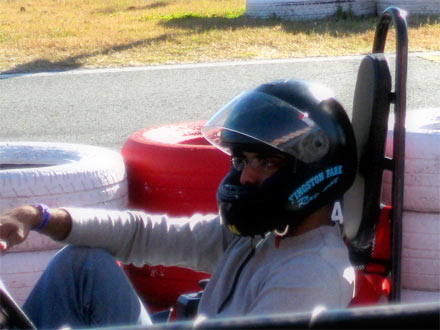 Yeap, I've got a head built for a helmet.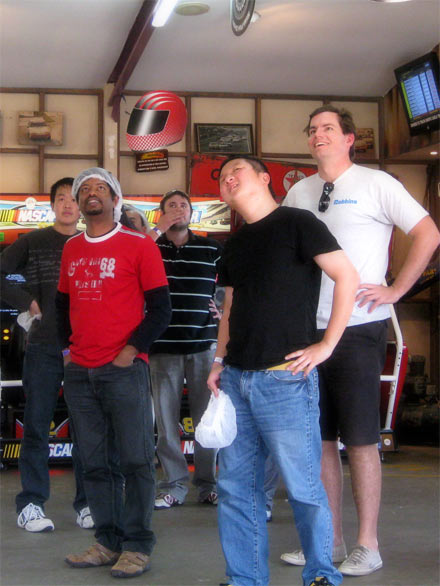 Catch me if you can boys. I took out the second heat.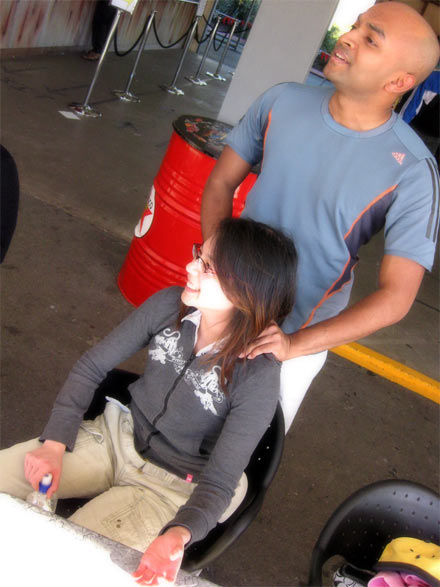 Chui Ming was incapacitate by a wrist injury so Daktarr Saar started to massage her shoulders.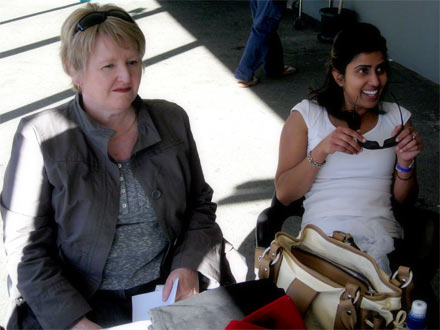 Gayle and Renu were on hand to offer her moral support.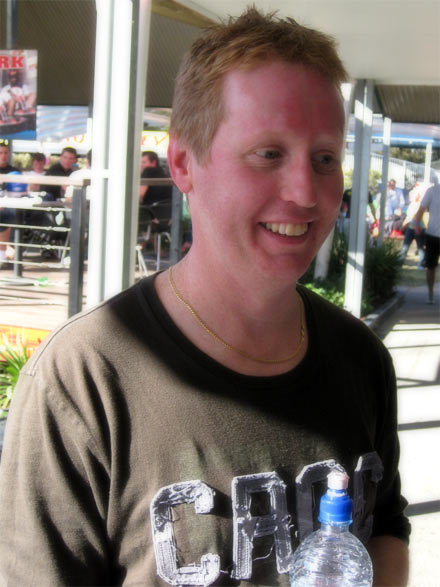 You tired, mate? Frenchy went through a power surge.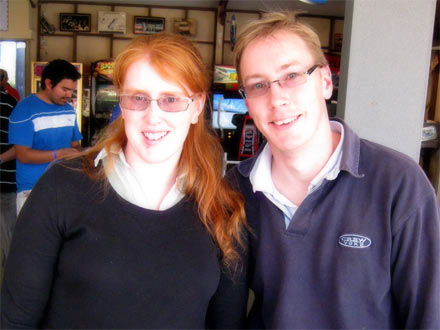 Nora and EDG Phil looked relaxed as the new baby sitter had taken charge of their boys.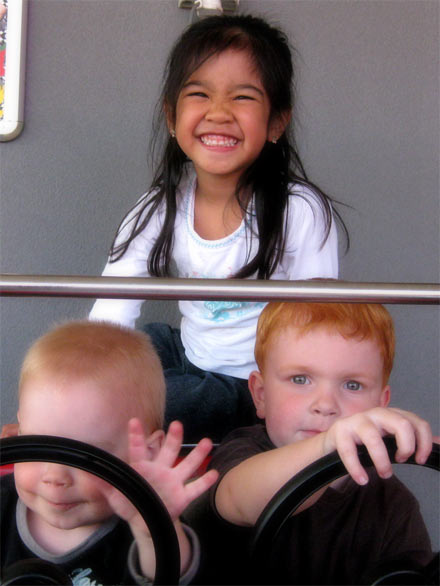 And Izzy was just the girl for the job!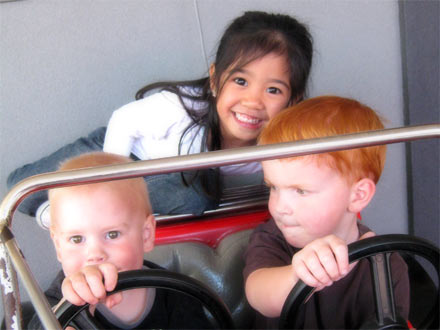 Don't corner so faaaaast!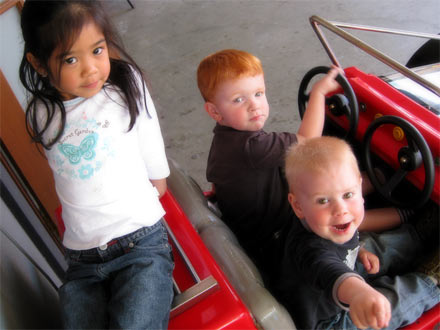 NO!!! I'm not your daddy…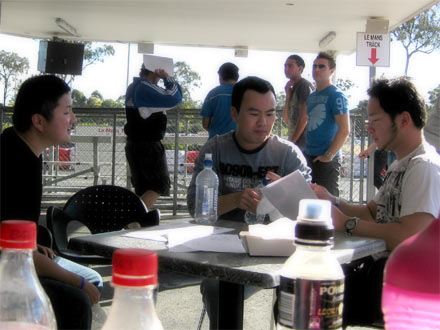 Choman knew he was in for a shot at the trophy and was quietly confident for the final. Starting positions were calculated from the points each driver scored in the two qualifying heats.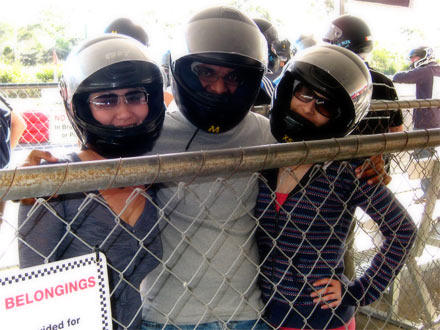 What was that about three being a crowd?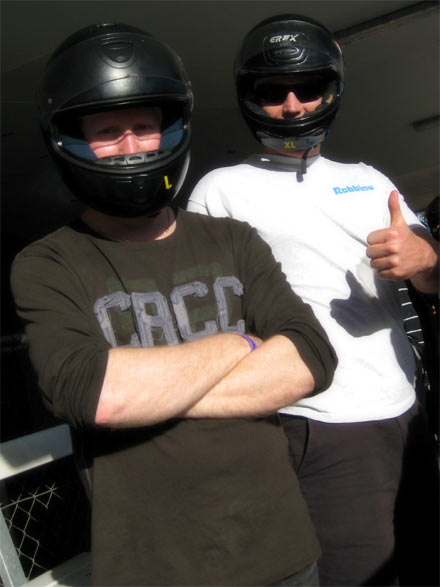 Frenchy and Scotty mixed defensiveness with enthusiasm.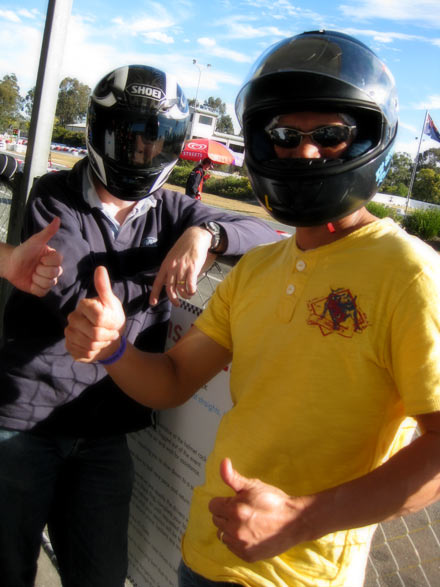 Scotty was up for mixing his enthusiasm with Phil and Joj too.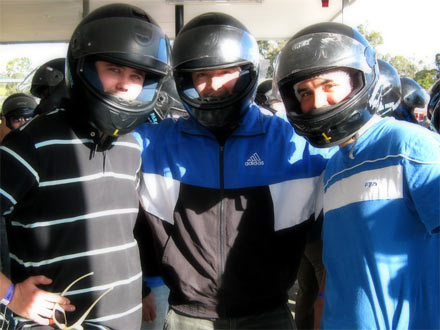 The Vega Boys! Nellie, stop feeding your hubby, his lap times were getting sloppy!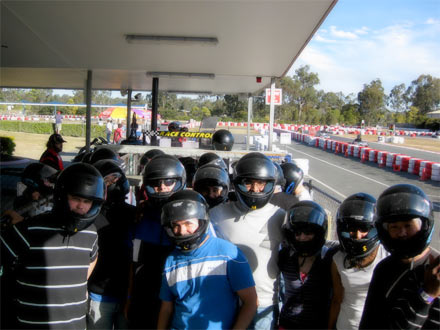 And we were all off on for the big finale.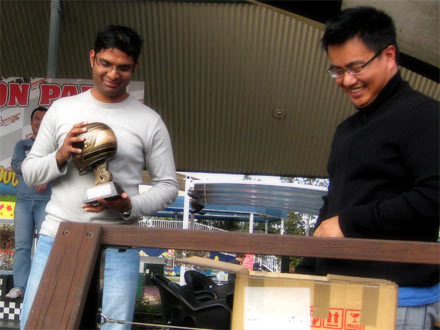 In an unexpected twist, the final race was cut short by two laps due to our collective aggressive driving. I had taken the lead in the preceding two laps and wound up winning the race having started it from fifth on the grid.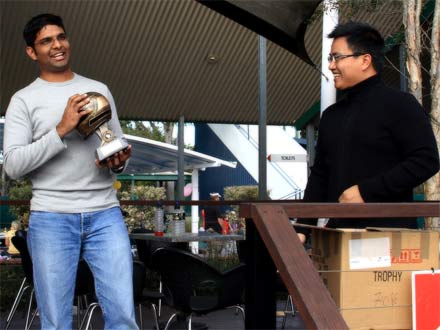 I'd like to thank my Mom, God…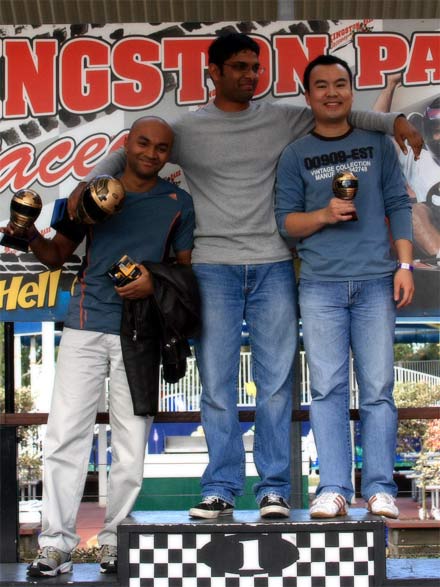 Manu was only a bumper behind me finishing 2nd. And I had no idea how Choman managed to drop back to third after his early pace.
Chui Ming got the Lamborghini encouragement award to try and not finish last for next year.
In a democratic vote, Daktarr Saar was awarded the bulldozer award for the second highest number of love taps during the races.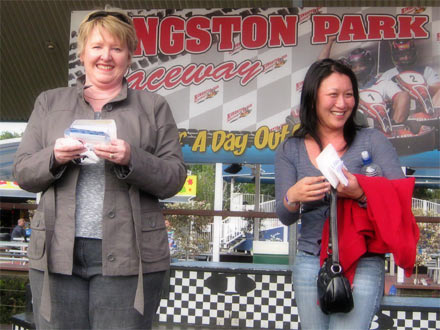 And to add a little glamour to the event, we had a Fashions of the Field category for all the lady competitors. I figured that it would be diplomatic suicide if I chose the finalists, so I handed that responsibility to Gayle. Karen with her red number picked up third spot.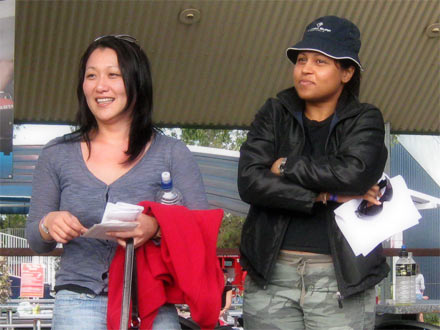 Shivani picked up the second spot for her gangster rapper do.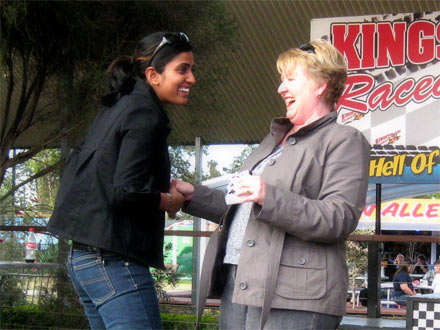 First prize went to she who was deemed most likely to feel perfectly at home in an F1 paddock.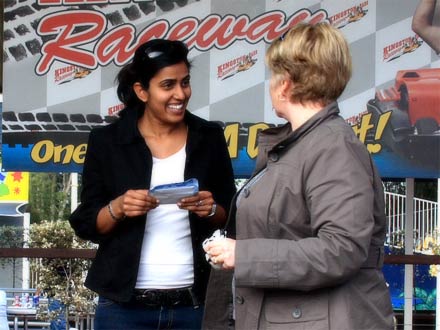 Guess which Peter Allen song this reminds me of?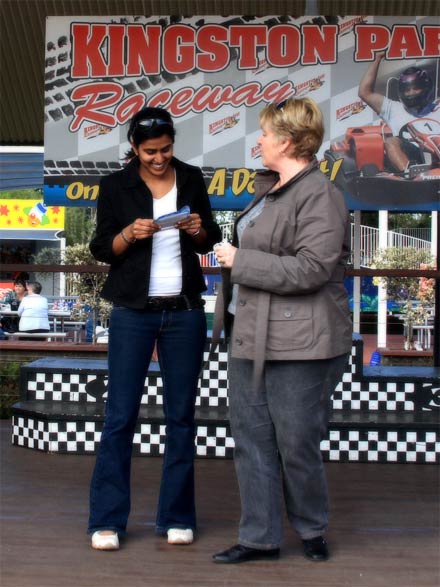 She had to double check of course.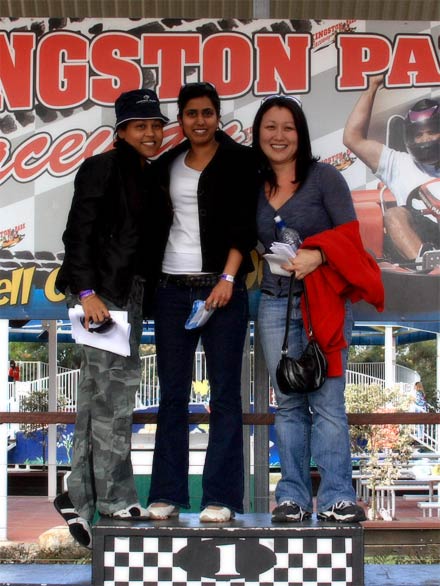 Work with the camera now…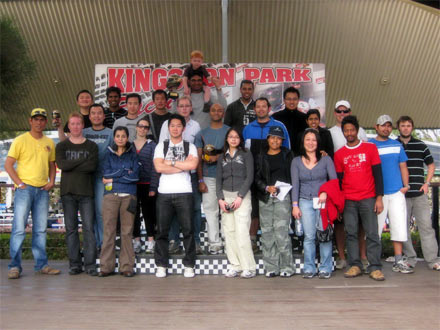 24 drivers and one tiny tot.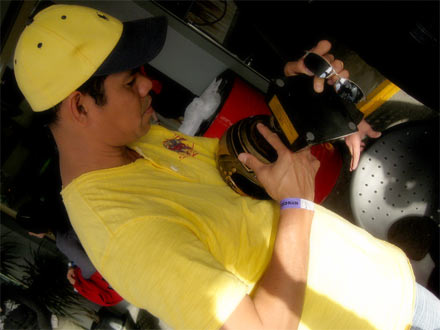 Joj checked out the build quality on the trophy.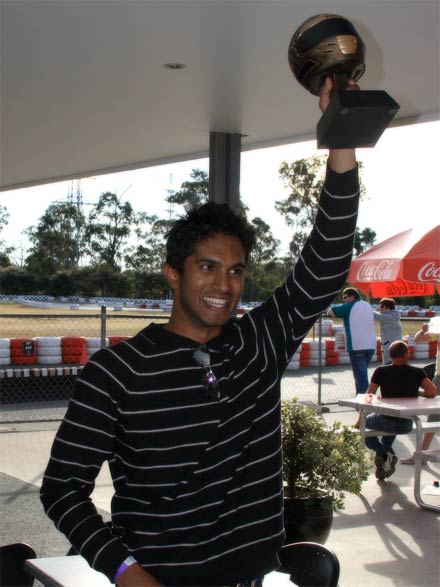 Dingo was practising for next year…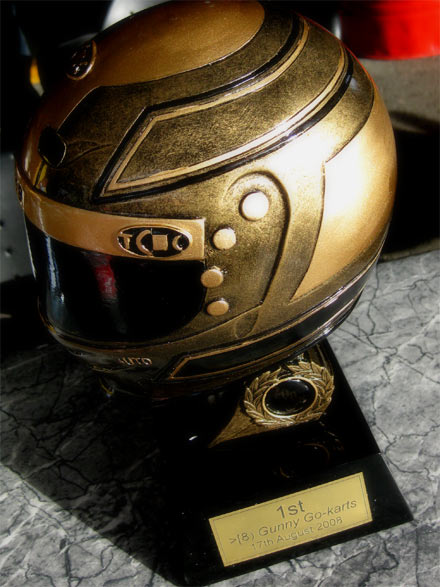 Straight to the pool room this is off to!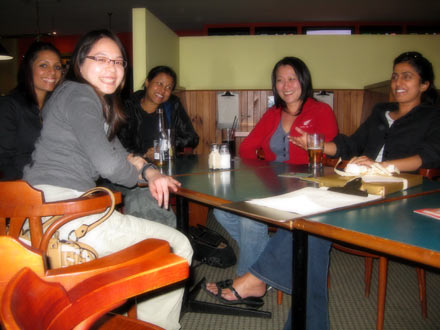 We all then regrouped at Lucky Star for the recovery session.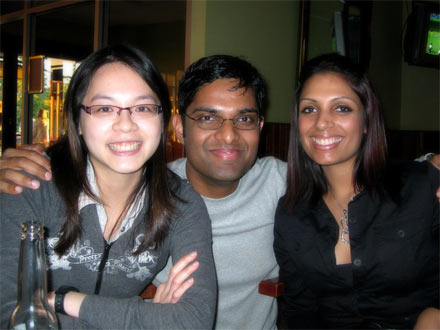 With the girls.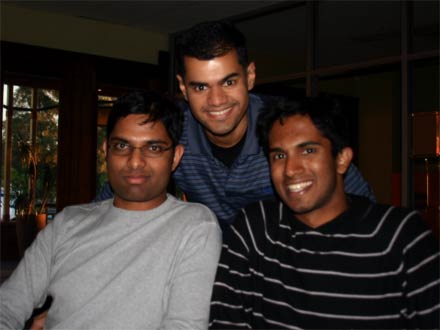 With the boys.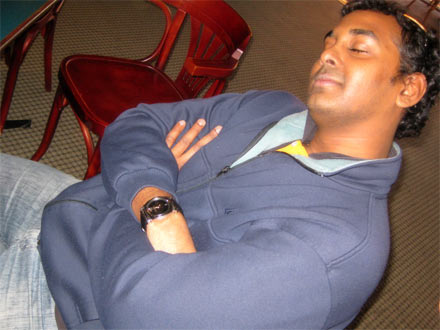 Kash was there, sort of…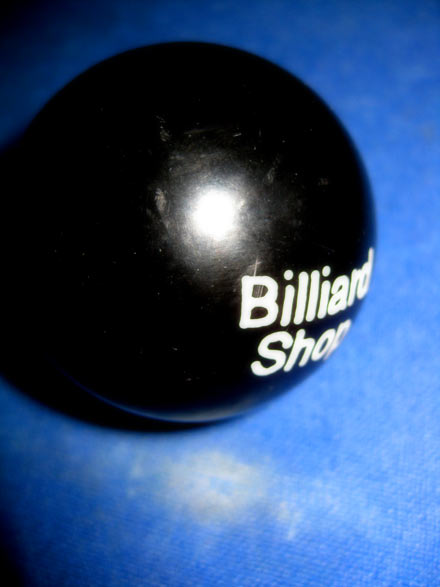 We booked out the pool table.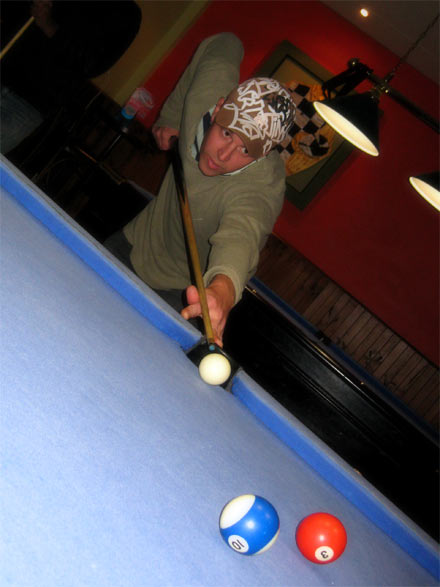 James in action.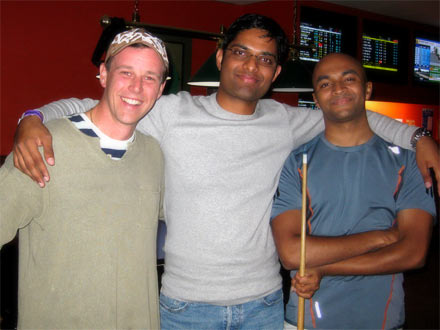 Winning's not everything, but you'd rather be with the winning team for photographic purposes.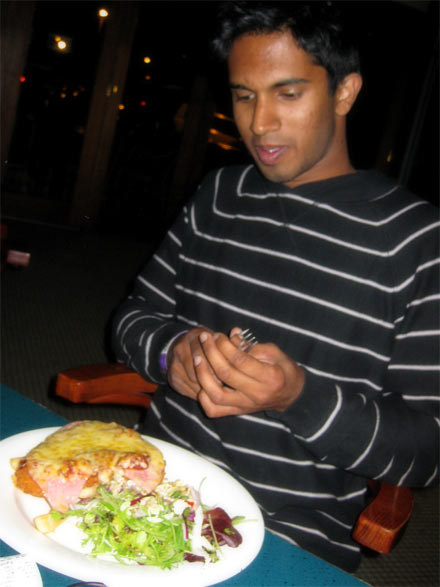 Soon it was time for dinner.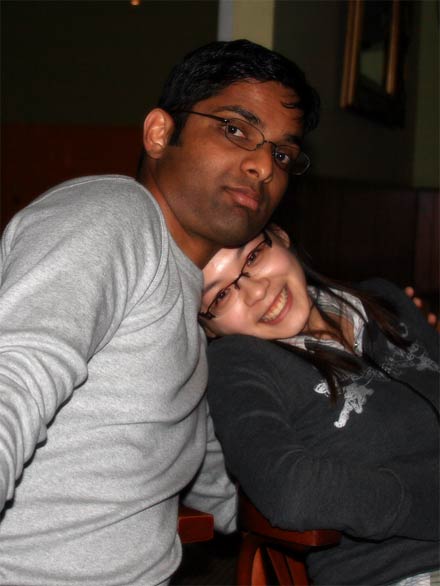 Chui Ming went through her food really fast as the only thing Daktarr Saar fed her the whole day was a protein shake in the morning.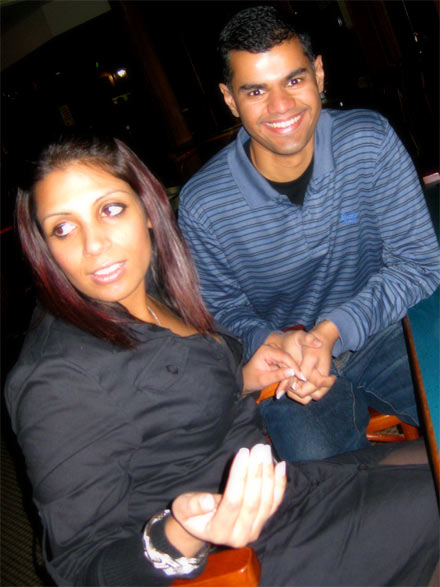 Vibs and Shifty.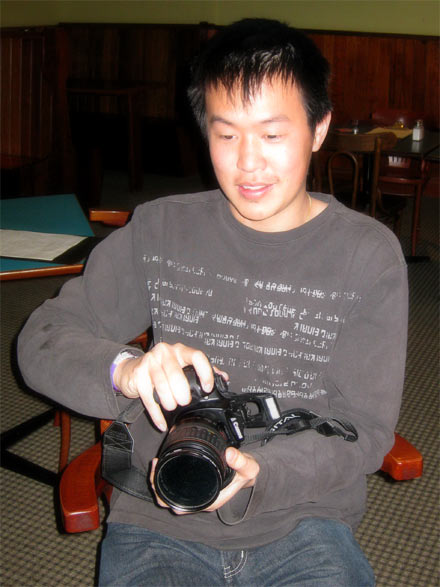 Andy and I had the customary camera off.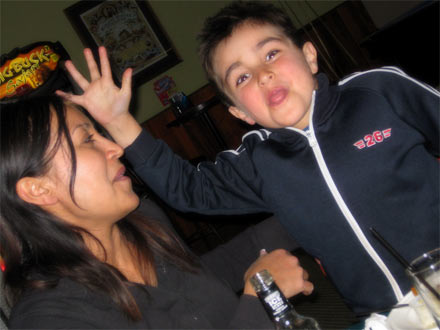 Jazz, you sure your boy is not Kiwi?
I love cakes. Vibs had the special order cheese cake all lit up.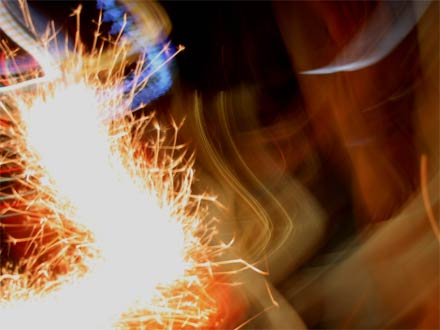 Ah, it's just like being in a fabrication shop.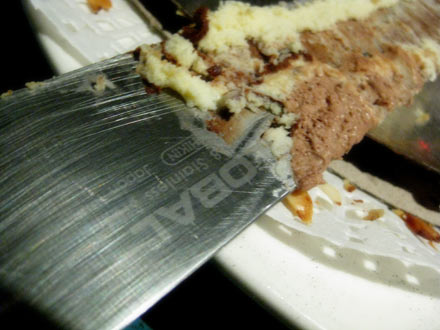 I was given a Global to chop up the slices.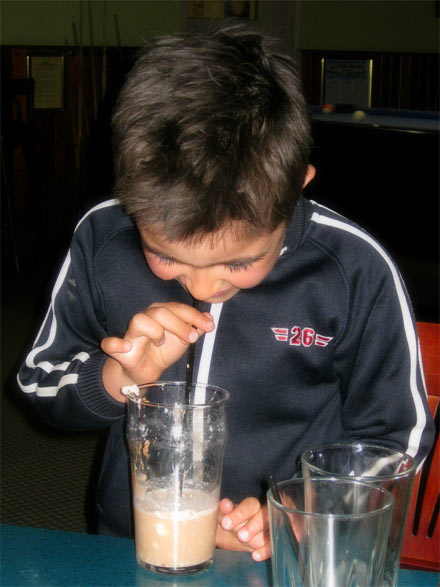 Jahyn made up an interesting cocktail of beer, cake and salt. I bet that it tasted just like chicken…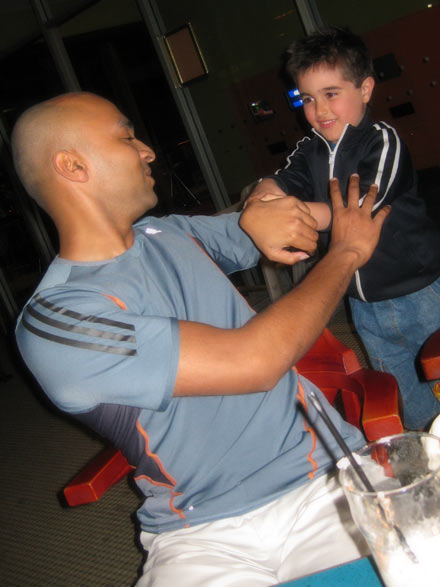 Once he drank that, he had enough energy to overpower Daktarr Saar.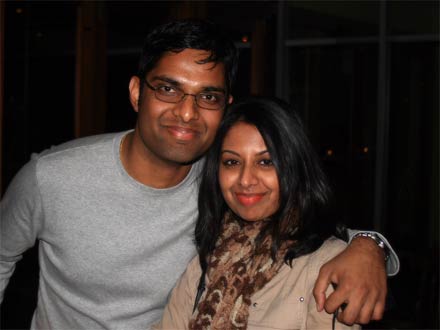 Pecs made a very stylishly very late entrance.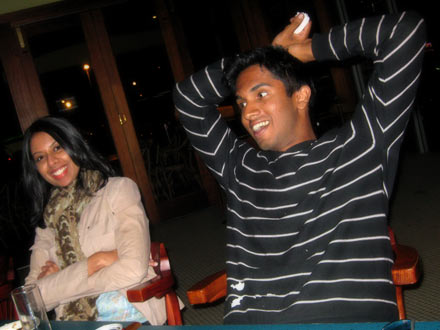 I had the SL crowd fighting it out in that end of the table.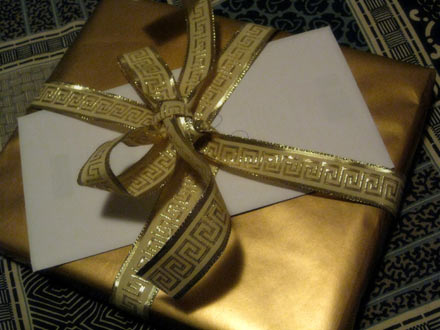 Right at the end of the day, it was time to check out the gift from Shifty and Vibs.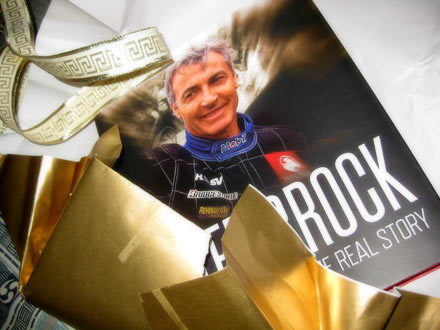 And from it popped out Peter Brock.
Thank you all for another memorable week of birthday celebrations.
THE PAGES
Curry News Network
Latest Entries
Report Archives
Latest Race Updates
Links