Baby Jayna Turns 1
10th August 2008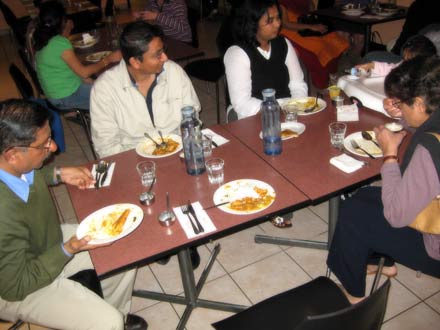 August the 10th- a very significant day in the lives of Jeeps and Mohana. It had been for exactly one year that they have been parents. To mark the occasion, we all went out for Indian food.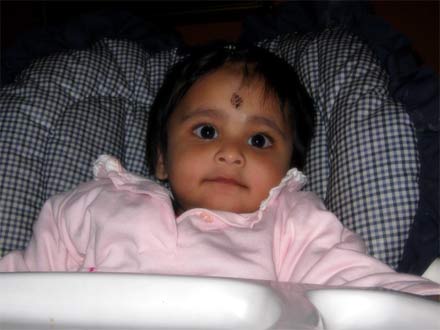 No surprises then that the guest of honour was Baby Jayna.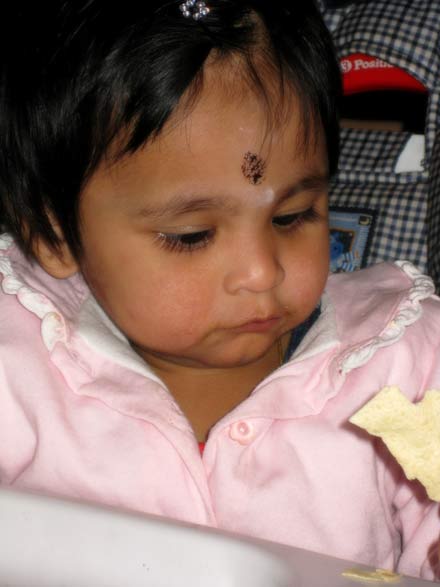 She was kept happy with a steady stream of pappadams.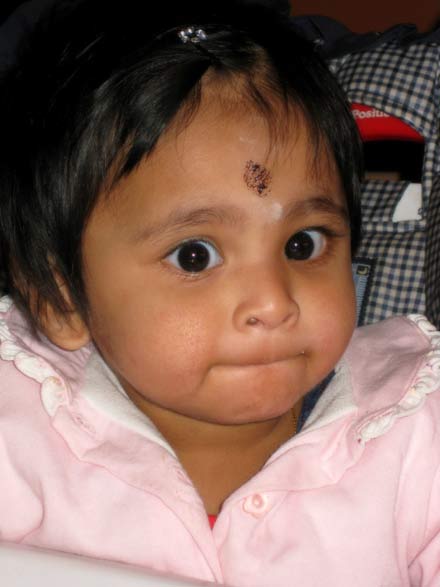 But that didn't stop her eyeing off the buffet bar though.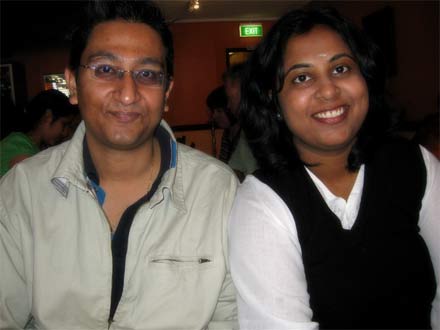 Proud parents.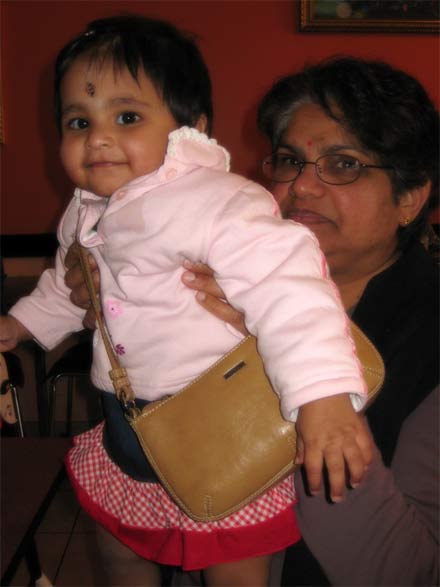 After lunch, Jayna grabbed Ma's handbag. I wonder what she had in mind…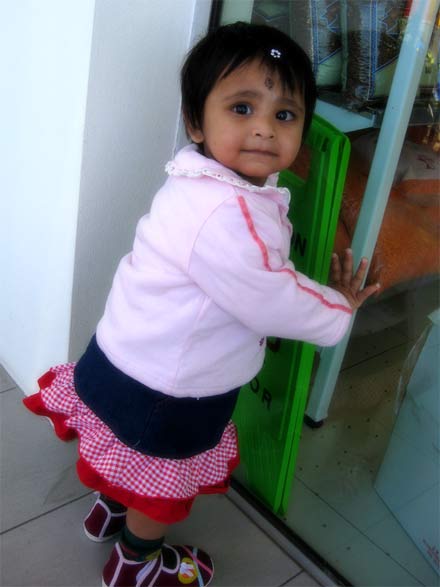 It turned out that she wanted to go window shopping!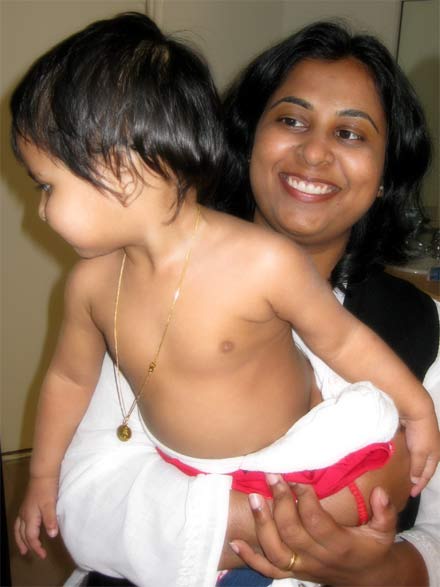 After walking about Upper Mt. Gravatt it was time for her to have a splash and get into her party dress.
Jayna, where's your security napkin?
Umm, I dunno…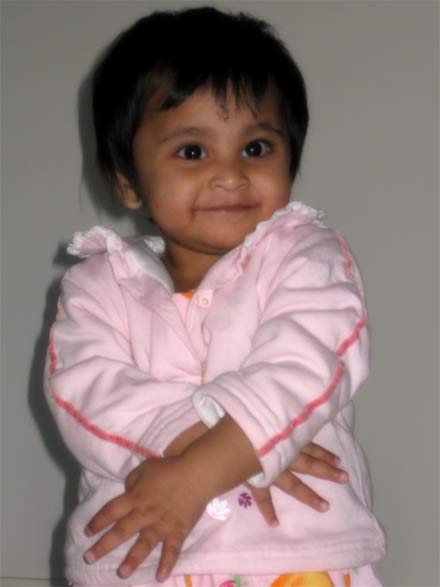 Jayna demonstrated her gangster rapper side when she started dancing to Bollywood music.
She was dancing because it was a chocolate mud cake time!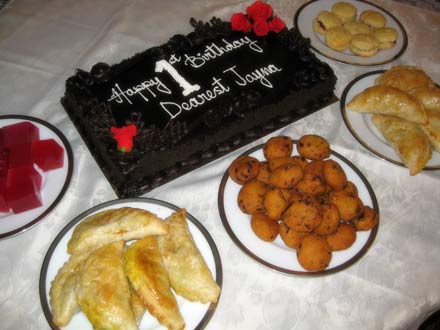 Aunty Kalai did the two different types of curry puffs and Ma had the donuts, jelly and scones all sorted.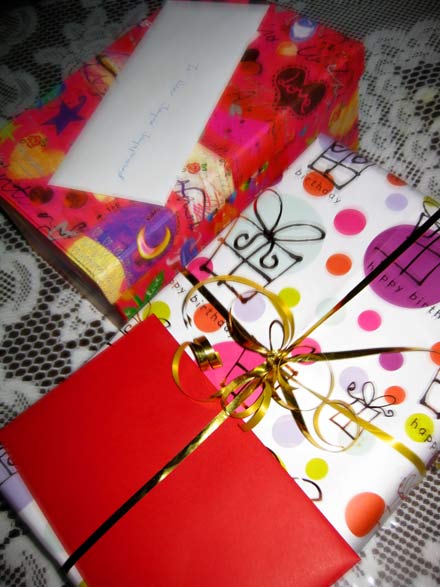 Can't forget the pressies!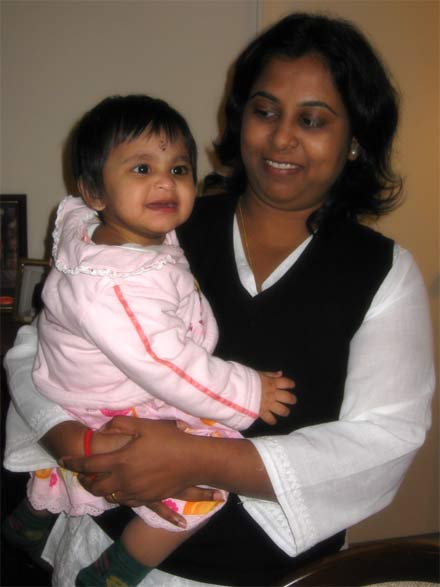 I'm here! I'm here!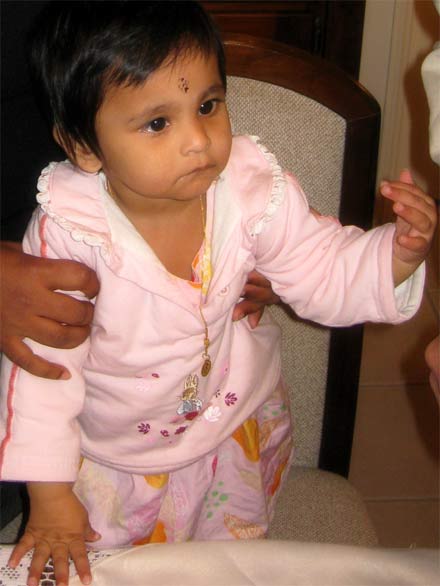 Woi! Where's this knife I'm meant to be holdin'?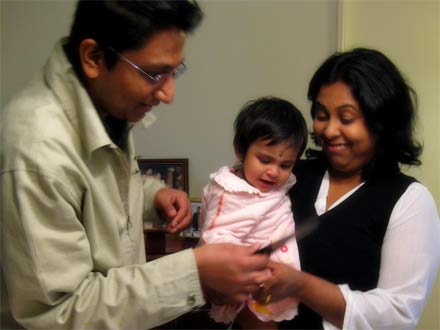 Mum and dad seemed a little unsure, but the baby knew exactly where the pointy end went…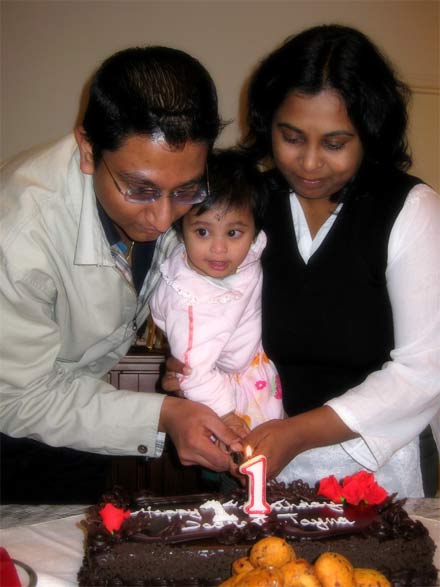 Make a wish!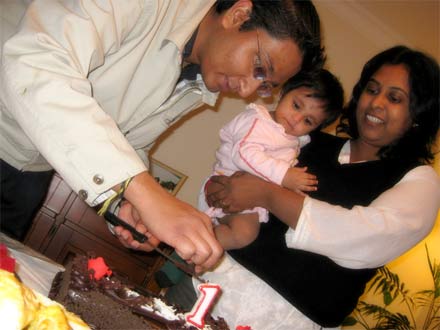 Jeeps was tasked with chopping up a baby-sized piece of cake.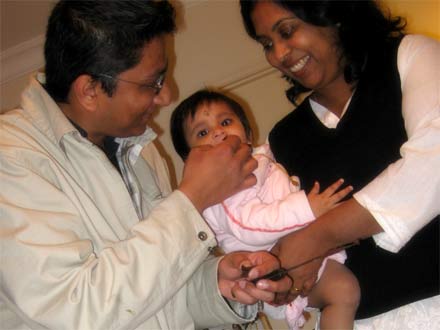 That's the birthday cake done, now for the wedding cake in two decades' time!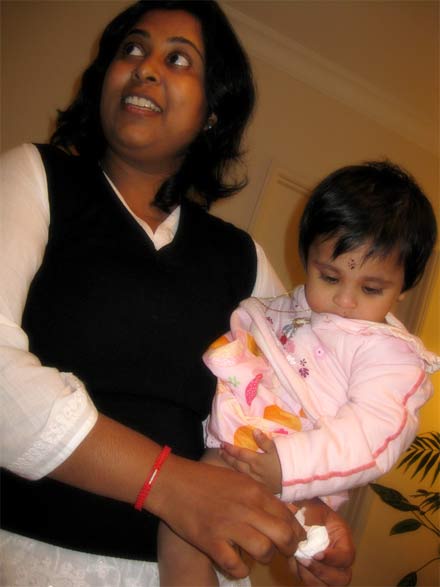 Mmm, can I have another piece?
Jayna was screaming for the group photo.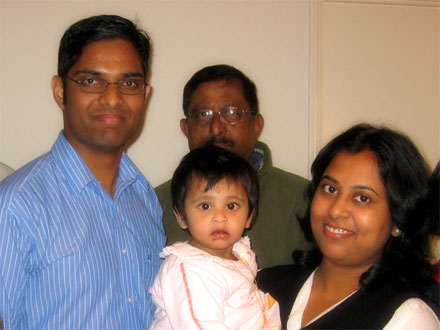 She must have wanted me in on it as well…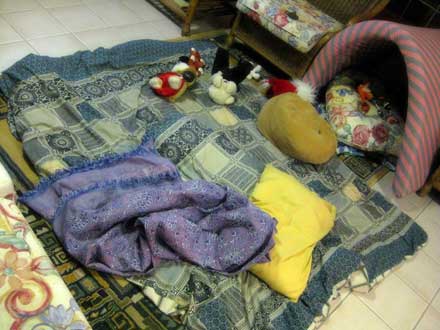 It was the second time within a week that one of Ma's sitting rooms was turned into a day care centre.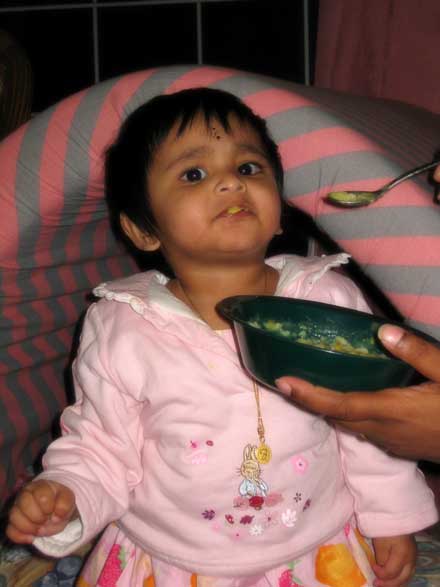 I've always wondered why Indian ladies call food mum-mum and not dad-dad.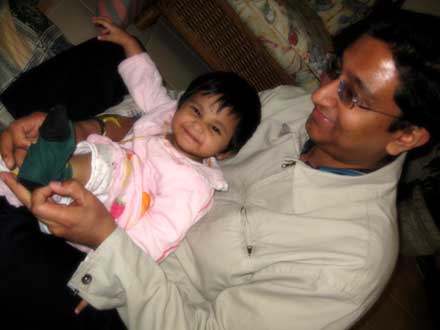 Foot massage.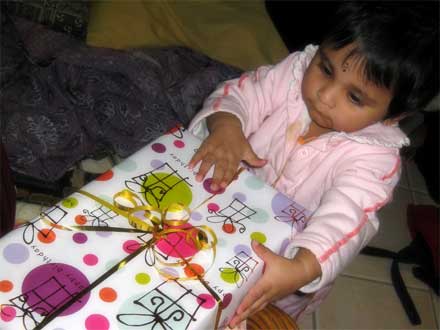 It was then time for her to see what she got for her birthday.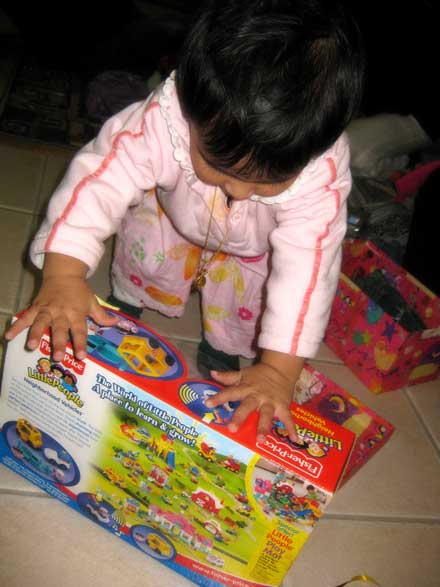 OK, it's a box…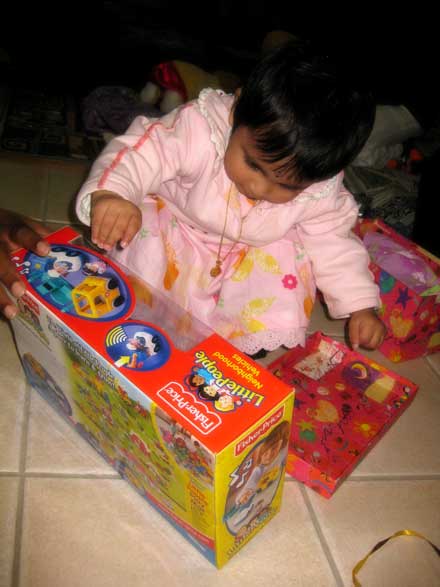 Now how do I get inside?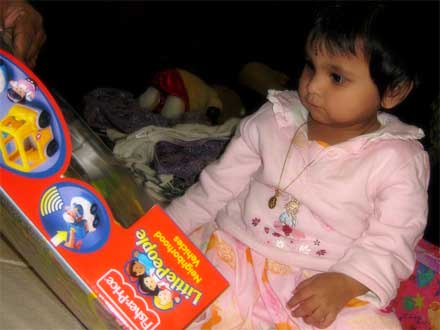 OK, I'm going to need a hand…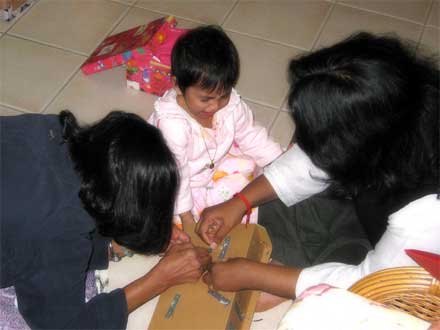 FASTER!!! The adults eventually managed to remove the toys from the box and that managed to calm down the girl. She's going to be a project manager, I can foresee it now!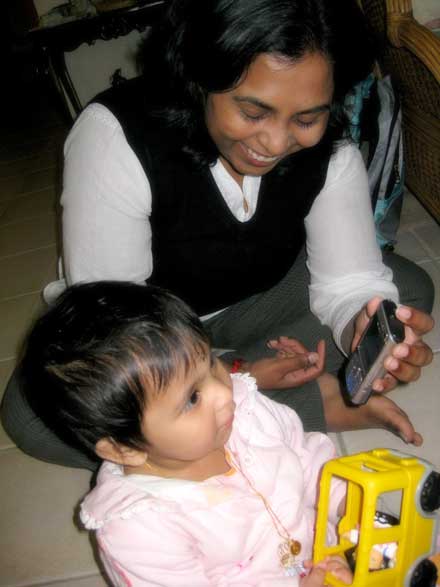 She then had an interesting conversation with her maternal grandmother via speaker phone.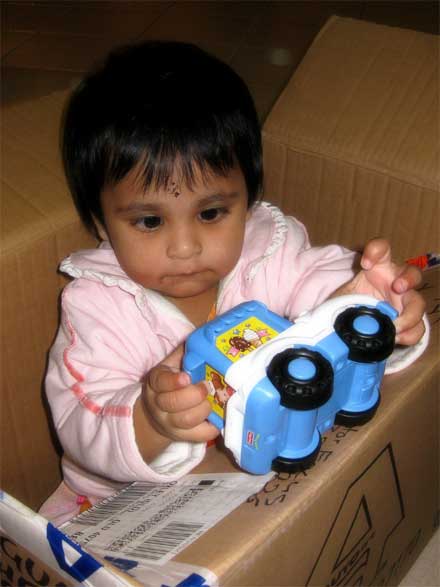 The blue thing might have been her dream vehicle, but all I could provide her for that night was an AUTOart box.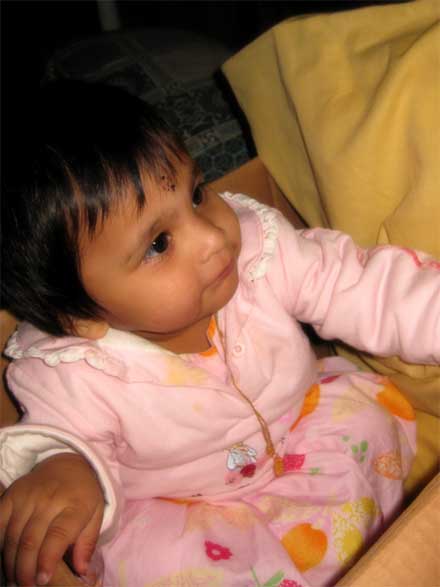 Orright, it's a wrap! Baby's gotta sleep, when a baby's gotta sleep.
HAPPY 1st BIRTHDAY JAYNOO BABY
THE PAGES
Curry News Network
Latest Entries
Report Archives
Latest Race Updates
Links